China Trip (here I go)
So, last sunday I spent a few hours playing around in Flex (and PHP) to build this microblog site so all friends and colleagues are updated of what (the heck) we are doing in China. I am flying tomorrow to London and meet with Inês and Maria to fly to Shanghai. Everyone else (mostly work colleagues) are already there. We are going to a colleague of mine's wedding (Tina, whom you might have find often in this blog as my main victim). I booked an extra 10 days since I actually needed a break. So we have a nice touristic plan for Shanghai and Beijing, which you can also find on the microsite: CLICK HERE or picture below to open the page: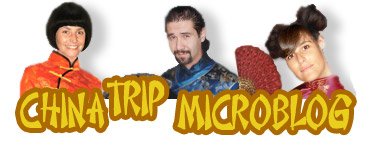 You can leave the page opened in the background. When there's something new, "we" will notify you with a nice and histerycal sound. Please, feel free to leave us some messages there.
After I am back I will dissect this site (the Flex and the PHP part) and how everything was done from the messages database, the picture upload, the webcam capture, effects in flex, etc.
This will be a good test case for the brand new hacked mac netbook (previous post) which we'll use to do the updates all the time (Tina says everywhere wireless acceess is quite cheap, kind of 40 dollars 200 hours).
Fell free to leave us a comment / message anytime!